© Fotolia
Bleaching: Brilliant Light Effects for Your Hair
Are you dreaming of brilliant light effects in your hair? Then bring the magic of sunshine to your hair and spend this summer as a blonde! There are many ways to lighten the color of your hair. Right here, you find the gentlest ways of doing it. We also like to help you care for your bleached hair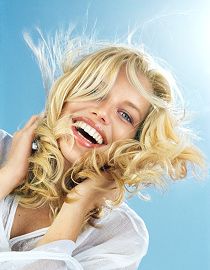 Brilliant light effects in your hair are like magic. They add glow and liveliness to your appearance. This is true for all bleaching effects whether you add a few lighter streaks, bleach all your hair or only use a sun-in (bleaching) spray. In principle, it is possible to bleach hair of any color, from black to brilliant light blonde. Your hair stylist is able to turn ebony hair platinum blonde in a matter of hours. Of course, this takes several steps of chemical bleaching. Unfortunately, such drastic effects come with a fair amount of stress to the hair. Home bleaching treatments can lighten light blonde to medium brown hair by up to eight shades and medium brown to black hair by two to three shades – and you don't even have to worry about a red tinge.

Lighter Streaks Add Interest and Glow to Your Hair
Magically, highlights turn on the light in your hair and give your hair a very natural blonde appearance. You can put some highlights into your hair using a streaking cap. Alternatively, you may also decide to set some highlights using a thin brush or one of the very convenient applicator bottles. Hair care professionals either set streaks the traditional way using foil or streaking combs or they use brushes and applicators for more artistic free-hand streaks. Light streaks work well for almost any existing hair color. Streaks in two or three slightly different shades look particularly attractive.

Spray Lightener – The Gentle Way to Lighter Hair
Would you like to lighten your already blonde hair by a few shades? Bleaching spray (sun-in spray) provides the casual beach blonde effect. Simply spray the lightener into the dry or damp hair. Each application is going to lighten your hair by about one quarter shade. It is possible to bleach hair this way by one to two shades altogether. Sunshine and heat from a blow-dryer increase the bleaching effect. Dependent on whether you like to lighten all your hair or just a few strands of it, you apply the sun-in or bleaching spray to part or all of your hair. Let your artistic side play with the light effects!

Color Your Hair in Your Favorite Shade of Blonde
Home color treatments allow you to change your hair to your preferred shade of blonde as long as your natural hair color is not darker than dark blonde to light brown. Such color treatments remove the natural hair pigments in a relatively gentle way and replace them with new blonde color pigments. It is important to leave the color treatment in your hair for as long as indicated on the package. Remember: The initial bleaching process for all color treatments proceeds via reddish and yellowish steps. If you rinse out the color treatments too early your hair could show unwanted reddish or yellowish tinges.
Going All the Way: Bleaching Your Hair Blonde
You need an intensive bleaching treatment if you want to color darker hair light blonde. Such intensive color treatments degrade the natural dark hair pigments to a larger extent than less intensive colorations. They therefore allow you to change your hair color quite drastically so that you can easily turn your hazel hair to a brilliant light blonde. Don't forget: Hair needs special care after color treatments, especially after intensive bleaching.

Bleached Hair Needs TLC
After bleaching you should be particularly nice to your hair. It is the only way to keep it healthy, shiny and bouncy. Give your hair generous helpings of TLC if you bleach your hair regularly. Special hair care series for color-treated hair are ideal for this purpose because they contain very potent moisturisers, invaluable oils and hair remedies such as keratins and vitamins. A conditioning rinse after every shampoo is obligatory. You can prevent your hair from going limp by applying the conditioners only to the hair ends and thoroughly rinsing the conditioners out after a short application. Refresh your hair by applying an intensive conditioning treatment or mask once a week. UV-protection is also very important to prevent your hair from color loss and dryness.